Popular Westlands bar The Alchemist has officially announced that it has closed its doors while Nairobi County Government conducts investigation on racism allegations.
"…the last few days have shown us that we have much work to do to hire a new security team and develop new systems and processes to ensure that every single person feels welcome. After careful consultation with Nairobi County Government, The Alchemist has agreed to close its doors while a thorough investigation is conducted over the next few days…" the statement read.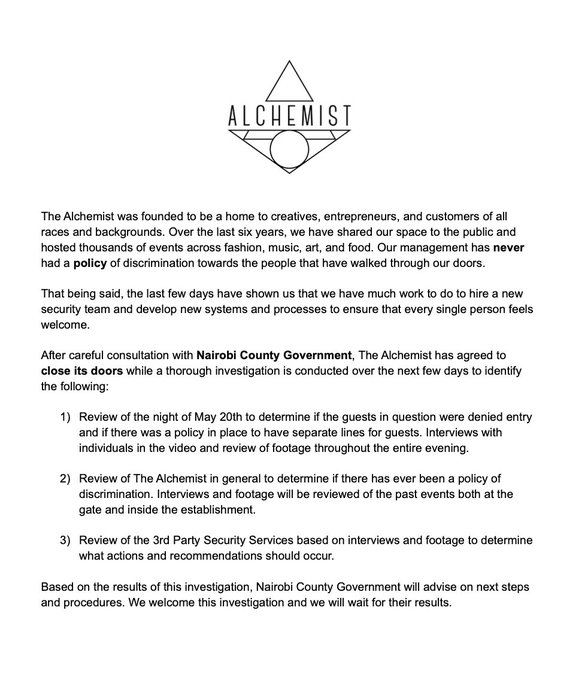 The hip joint owned by ex TV presenter Michelle Morgan and hubby Peng Chen came under heavy fire on Sunday after a video exuding racism surfaced online.
In the video, it could clearly be seen that the entrance security has a different line for blacks and Caucasians, giving priority to the latter.
Many Kenyans, including former Nairobi Governor Sonko took to social media to call out the establishment and its administration.
"It's illegal to discriminate against Kenyans on the Kenyan soil. Our freedom fighters died fighting racism. Under my administration, I will not have entertained such kind of nonsense. I call upon president Uhuru Kenyatta and his administration to take necessary action. Otherwise, this ALCHEMIST club in Westlands should be closed with immediate effect," wrote Sonko.
In response to the video which has since gone viral, the bar released a statement apologising for the incident but later released CCTV footage saying the accusations were "categorically untrue."
The bar was launched back in 2015 and has been a creatives haven for the most part.