Former Prime Minister Raila Odinga praised Genge artist Mejja for the creativity he brings to his music.
By this, he confirmed to Kenyans that he is an avid listener of Kenyan music.
The politician took to his Twitter account to heap praises on Mejja, paying particular attention to his hit song 'Tabia Za Wakenya'.
"Mejja's Tabia za Wakenya hit was playing somewhere this morning and it got me thinking it is true!: Masaa na mkenya lazima atachelewa lakini sherehe?! Our Musicians are really creative. Wonderful week ahead fellow countrymen," wrote Raila.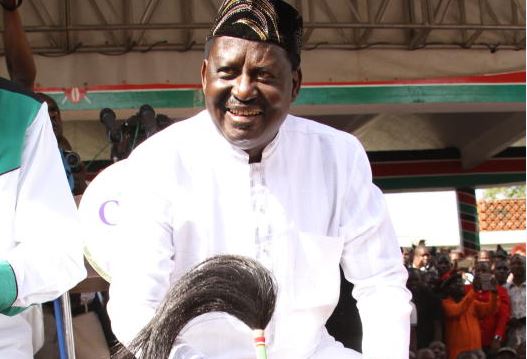 This he wrote as he was attending the event held in media boss S.K Macharia's Murang'a home. The event was organized by the artists to express gratitude to the government for waiving taxes on their Skiza tunes earnings.
The artists who are now exempt from the 25% excise duty claim that the move will significantly increase their earnings.
"Spent an enjoyable day in Murang'a with our Musicians, who reaffirmed that Kenyans need practical solutions to challenges, not empty sloganeering. The legislation that grants artists a larger share of Skiza tune revenue is a practical example of the steps that Kenya needs," wrote Raila.