Nairobi culture in five words
Sheng, sun, writing, matatus, genge.
Sound of the city
Beeps from security wands and metal detector machines are the norm in Nairobi, because of the compulsory security checks at every major building, mall, event locations and some buses in the city. In short, security checks are everywhere. Individuals are required to put their bags and phones in trays while they walk through the metal detector machine and in some places security guards also frisk people.
Everyone's tuning into …
The Trend, NTV's hit show, chats with popular and polarising personalities that people in Kenya are talking about on Twitter: from pop stars to skin-bleaching socialites.
Best current venue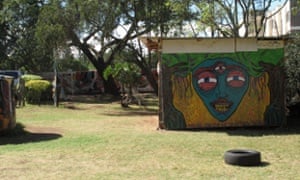 Artist and content creator Lyra Aoko's Instagram account is a good representation of the arts scene in Nairobi.
Cultural moment from history
Nairobi National Museum had its 100-year anniversary in 2010. It was a great moment for the city because the renovated museum holds impressive and culturally important artefacts. World-renowned paleontologist and Time Magazine cover star Dr Richard Leakey spoke at the grand celebration, which also featured an art exhibition. Some of the world's most prized artifacts are housed at Museum Hill, including a homo erectus boy.
Best street art

Bankslave is a socially conscious graffiti artist. His work ranges from a massive portrait of Lupita Nyong'o to screaming faces with active pipelines coming from the mouths. He calls these "screaming souls".
He recently honoured the world's oldest primary pupil Kimani Ng'ang'a Maruge on a wall in Kariobangi. The famous Kenyan started his primary education at 84 years of age, and is the subject of the film The First Grader.
Favorite local artist